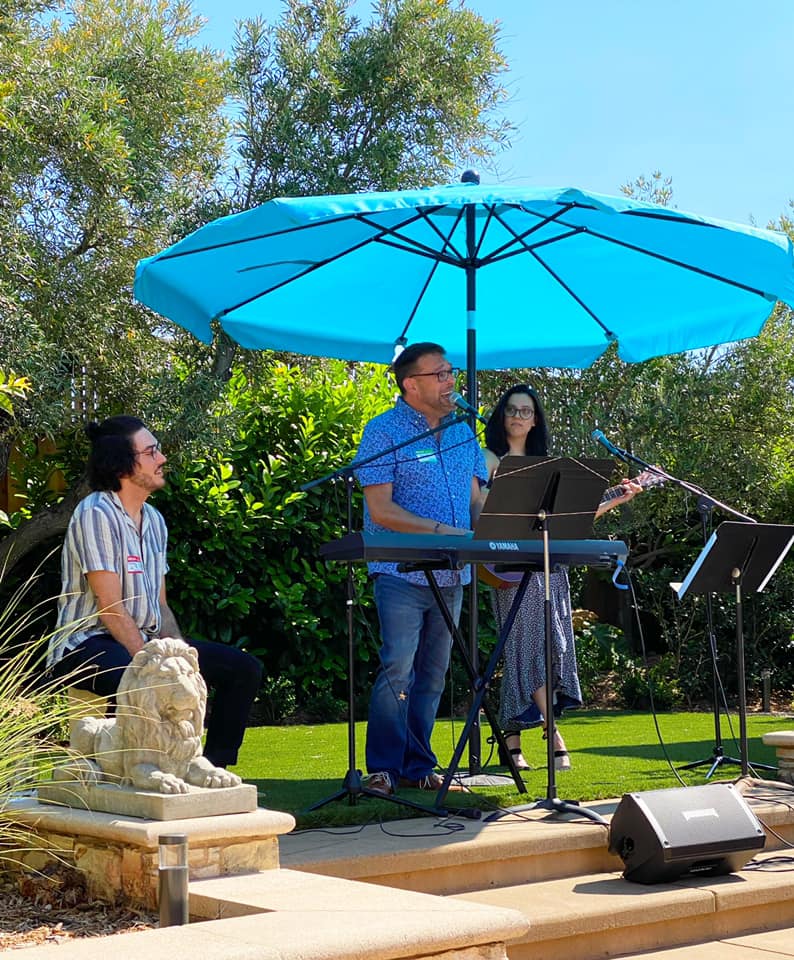 Two weeks ago today, in my friends Lynne and Rod Wallace's beautiful backyard here in Santa Rosa, thirty of us gathered for wine and hors d'oeuvres and songs and stories and conversations. I called it a "soft launch" for friends and family to learn about my new nonprofit organization, Common Sanctuary.
It was a beautifully diverse group of people, gathered together from many of the different communities I have called "home" over the years. There were friends from Sonoma Country Day School, The Quest, The Journey Center, my precious LGBTQ+ contemplative spirituality group, Twitter and even, amazingly, my alma mater, Grace College. My dear friend Sharon DeGraw was there to support and encourage me, to bear witness to the goodness of God in the long, strange journey that we've both been on over the last three decades. What an incredible gift. Three of my children – Emily, Zachary and Jacob, along with Jake's wife Kajsa – were there to support their dad with their presence and with their musical gifts. And my amazing boyfriend, Alejandro, in town from Puerto Vallarta, was the perfect partner for me, greeting everyone, making sure they had wine, introducing people to each other, signing people up for the mailing list and making sure I had everything I needed.
Ann Hall organized the event and spoke words of blessing and encouragement. Krystle Jeffers put together and ran a sound system for the speakers and musicians. Mindy Braun, the Journey Center's executive director, spoke words of encouragement and support, and Adam Evers, co-founder of the believr app, shared about queer Christians and our need for support. Susan Collins and Brad Hall provided excellent behind-the-scenes support.
It was especially meaningful to me to gather at this particular home. Six years ago, I was invited to join a wonderful community known as The Table. Rod Wallace opened up his home to a ragtag bunch of spiritual seekers who were "deconstructing" our complicated relationships with God and the church, and who were dreaming of a better way forward, praying and seeking a God who was bigger and better than the broken systems we had been taught contained him. It was in 2016, in that safe and sacred context of good food and wine and conversations and relationships, that I initially came out and shared that my marriage and my church career were coming to an end. That beautiful community gathered around me and my then-wife and our son. They encircled us physically and lifted us up in love and prayer, trusting that God would walk with us. Full-circle stories captivate me and grow my faith in a good God. To be at Rod's home five years later was, to me, beautiful evidence of purpose and meaning.
When the time came to talk about the mission and invite people to join me, mostly I shared stories. I said that if you've seen me over the last five years, you've already seen Common Sanctuary at work. I shared my own story of growing up gay and closeted in fundamentalist Christianity, living in a mixed-orientation marriage for 23 years, conversion therapy attempts and finally coming out in my late forties. I talked about the amazing ways that God has used my history, my personality, my gifts, my availability and my passions to impact hundreds of people over the years. I talked about the shock of losing my full-time job and how I'm choosing to have a positive perspective on this change, how I dream of moving this work from the periphery of my life to center stage. And I invited people to join me as I continue to figure this out, as I explore and model healthy conversations at the intersection of faith and sexuality.
Common Sanctuary has big plans. We will be hosting monthly panel discussions that will be released as a podcast. We will be walking with pastors, lay people, churches and Christian organizations as they explore becoming more understanding, inclusive and affirming in their approach to ministry for and with LGBTQ+ people. We will partner with LGBTQ+ organizations to help connect queer people to spiritual resources. We will host retreats, events and community gatherings. We will help queer people discover or re-discover a spiritual path, and we will help Christians (mostly the evangelical types) broaden their perspectives on faithful, healthy sexuality. We will speak out against toxic, non-affirming theology that leads, ultimately, to death.
In short, we will invite people – LGBTQ+ and cishet, Christian and non-Christian – into the abundant life of Christ (John 10:10). And we will always extend the benefit of the doubt, assume best intentions and good faith, and engage with kindness and generosity, remembering that it is "kindness that leads to repentance. (Romans 2:4). This sanctuary is common to all of us. God welcomes all, and so we will create safe, sacred space and invite diverse voices and perspectives into healthy conversations around faith and sexuality.
We got a lot of people signed up for our mailing list. (In fact, this post will be the first email some of you get from me. Welcome!) Several people gave tax-deductible one-time donations, and some signed up to be sustaining partners by donating monthly. It's a beginning, and I'm so grateful for everyone who gave $10, $15, $25, $50 or even $100. Thank you. Your gifts enable me to spend my time and resources on this important work. And although we are a small operation at the moment, we have big dreams of growing and serving the Bay Area and beyond.
How can you join me in this mission? First of all, please make sure you're signed up for the mailing list. I'll send updates, blog posts, announcements and invitations to events.
Second, you can make a tax-deductible donation to Common Sanctuary, either a one-time gift or a monthly commitment.
Third, you can pray with me and think about people and organizations who might either need support or who might want to partner with me in this mission. I have no desire to re-invent the wheel, and I will happily continue to support and work with amazing organizations like The Christian Closet, Q Christian Fellowship, The Reformation Project and Queer Theology.
Finally, please plan to join us for the virtual version of our launch party! On Friday, August 13, at 5pm PT/8pm ET, we'll gather on Zoom and hear the latest stories and plans. I know many of you couldn't be in Sonoma County last month, so I hope you can join us online next month! Click here to register.
I continue to be grateful for all God has done. And I'm hopeful and excited about the future. Thank you so much for journeying with me this far, and I look forward to your partnership in the months and years to come.